Our society has become over-crowded, over-protected, and over-civilized. No one can live a fully human life without some experience of the wilderness. In the Judeo-Christian tradition, the desert, the mountain, the forest and other solitary places are used synonymously to refer to the basic wilderness experience.
Nada Hermitage offers a unique environment for a wilderness retreat. We are located at an altitude of 8000 feet at the base of the majestic Sangre de Christo Mountains, overlooking the expansive desert of the San Luis Valley.
Our life is a rhythm of work and play, solitude and togetherness, fast and feast, discipline and wildness, sacrifice and celebration, contemplation and action.
Retreatants participate in our monastic rhythms or choose solitude in their own hermitages. We welcome men and women, young and old, married couples and singles, clergy and laypeople, Christians, practitioners of other spiritual traditions, and those without any religious affiliation.
We believe each well-balanced person has inner resources that often remain untapped. The Spirit within will ordinarily be your director, but a monk is also available at the beginning of your retreat for minimal direction that does not detract from the basic wilderness experience.
Each retreatant lives in a separate hermitage which contains a wood stove, basic cooking facilities, toilet, bed, desk, chair, tape/CD player, and linens. We also provide food. (fresh vegetables, fruit, bread, cheese, canned goods, etc. If you have special dietary needs you may want to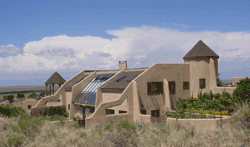 bring additional items.)
Our library of over 5,000 books includes spiritual classics and the best contemporary literature. We also have an extensive library of tapes. Our community building, library, and chapel are always open.
Bring rugged, comfortable clothes year-round, and warm clothing during the winter months. There are excellent mountain hiking trails in the area leading to some of the most spectacular scenery in Colorado, so if you plan to go into the mountains, bring appropriate hiking wear.
Crestone is home to numerous spiritual communities including several Buddhist groups and a Hindu Ashram. You may want to incorporate a visit to one of these other centers while you are staying with us. There are also many local opportunities for those seeking alternative health treatments or body work.
Making a reservation: If you'd like to come to Nada for a retreat, please write or e-mail and suggest dates--beginning on a Thursday and ending on a Wednesday—and give us a bit of information about yourself. (You can also print out our Retreat Application Form and send it to us.) You are welcome for as long as one month. Please submit alternative dates in case we are booked up. We ask that you plan to arrive on a Thursday between 1 and 4 pm and depart on a Wednesday by noon. Once we have received your application and have OKed the dates, we will contact you and ask for a non-refundable deposit in order to secure your hermitage, and to protect us in case of last minute cancellations.
Cost: We suggest a donation of $60.00 for your first night and $55.00 for each additional night. For couples sharing a hermitage we suggest $70.00 for the first night and $65.00 for each additional night.
Travel: You may travel to Nada Hermitage by car, air, or bus. If you come by air you will need to fly into Denver and catch a connecting flight into Alamosa. There is also bus service between Denver and Alamosa. If you travel by air or bus, we will pick you up in and return you to Alamosa provided you are able to arrive on a Thursday and depart on a Wednesday. Depending on your arrival/departure times and the number of other retreatants, you may have to wait a while in Alamosa. We count on your patient understanding. The drive from Alamosa to our monastery is about 50 miles.
Directions for those driving: Crestone is located one hour north of Alamosa or one hour south of Salida. If you are driving from the south (for example, Albuquerque) connect with Colorado route 17 in Alamosa. If coming from the north (for example, Denver) take 285 south and connect with Colorado route 17 about three miles south of the town of Villa Grove in the San Luis Valley. The Crestone turn off road is Road "T" located immediately south of the town of Moffat on route 17. Turn east on road "T" towards Crestone and go 12 miles. Just past a small church on the left is the entrance to Baca Grande. (If you enter the town of Crestone you have gone about ¼ mile too far.) Turn right (south) onto Camino Baca Grande. Go just under 1 and ½ miles to Rendezvous Way. There is a small sign at the corner indicationg "Carmelite Monastery." Turn right (west) and go about ¼ mile until you reach our parking lot. Walk to the main buildings towards the chapel and "Agape" our main community building. In Agape there will either be someone to greet you, or there will be a map showing you how to get to your hermitage. Important note: Despite being alerted to the problem, "Mapquest" continues to sometimes give erroneous directions to Crestone from certain locations in Colorado. There is no direct route from Westcliffe to Crestone as indicated in some Mapquest directions. If you are using an internet site for directions to Crestone, we suggest you use another service such as Google or Yahoo.
Please check our SLI Retreats Page for further information and frequently asked questions.